The Pacific gopher snake, Pituophis catenifer, is a nonvenomous snake found in the Western United States, Canada and Mexico. It is commonly called the Pacific gopher snake, Western gopher snake or coast gopher snake. The bullsnake is one of its five subspecies. This nonvenomous and harmless constrictor snake mimicks the behavior and appearance of venomous rattlesnakes to deter attackers.
Description
The base coloration of the Pacific gopher snake is sand or beige. Then have several very dark, often black geometric blotches on their back. On the sides, these blotches are broken up into a number of dark, irregular spots.
Within its geographic range, the harmless Pacific gopher snake is often mistaken for the venomous western rattlesnake (Crotalus viridis). The blotches of the gopher snake are generally more rectangular while the western rattlesnake has rounder blotches. Also, the head of the rattlesnake is triangle-shaped while the Pacific gopher snake has a narrow and straight head.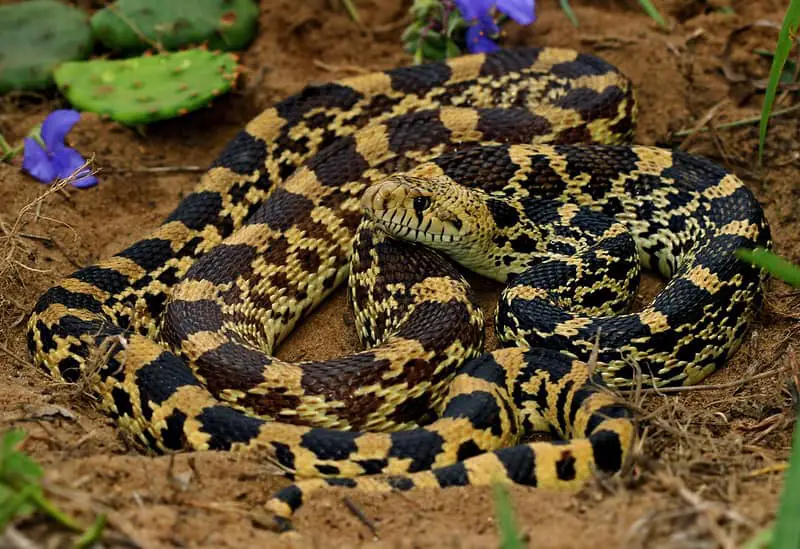 Juvenile Pacific gopher snakes are very light in color, sometimes even white. The light colored scales allow them to hide in the sand without being seen by predators.
Size
An adult Pacific gopher snake reaches a size of 40-80 inches (100-200 cm).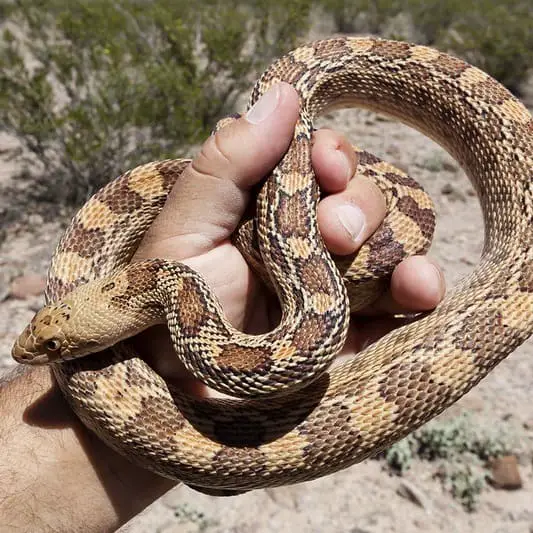 Hunting Behavior and Habitat
Pacific gopher snakes are constrictor snakes. That means that they use their body to soffocating their prey by wrapping themselves around it. Their preferred prey are small mammals, especially gophers. Their dietary preference have also given them their common name. Gopher snakes are great swimmers as well as great climbers and have adapted to live in a wide range of habitats. The snakes like to bury in ground and therefore prefer areas with loose soil or desert areas.
Bite and Defense
The Pacific gopher snake is a nonveomous snake. When the snake feels threatened, it rolls up its body and raises its head, ready to strike. This is the same defensive position that rattlesnakes also use. In addition to the position, the gopher snake also mimics the tail rattling of the rattlesnake. This mimicked rattling can sound quite convincing on the right surface, even though the gopher snake does not have a rattle on its tail. In addition, the snake makes hissing noises with its throat.
When an attacker gets too close, the gopher snake will strike. However, it does usually not open its mouth an bite but rather punch the intruder with a quick movement. For humans, they pose no danger.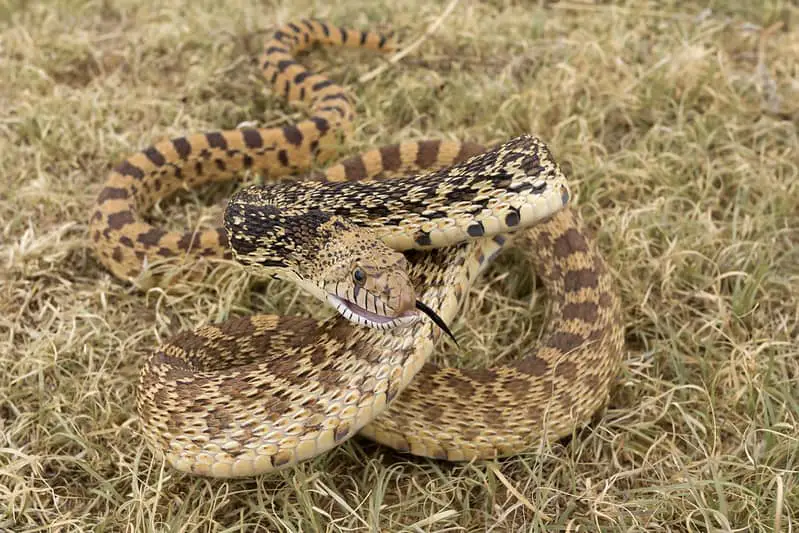 Pacific Gopher Snake range in the USA
In the USA, the Pacific gohper snake can be found in the states of Arizona, California, Colorado, Idaho, Illinois, Indiana, Kansas, Minnesota, Montana, Nebraska, Nevada, New Mexico, North Dakota, Oklahoma, Oregon, South Dakota, Texas, Utah, Washington, Wisconsin and Wyoming.
Subspecies of Pituophis catenifer and their common name
Pituophis catenifer affinis – Sonoran gopher snake    
Pituophis catenifer annectens – San Diego gopher snake    
Pituophis catenifer bimaris – Central Baja California gopher snake  
Pituophis catenifer catenifer – Pacific gopher snake   
Pituophis catenifer coronalis – Coronado Island gopher snake       
Pituophis catenifer deserticola – Great Basin gopher snake 
Pituophis catenifer fulginatus – San Martin Island gopher snake
Pituophis catenifer pumilis – Santa Cruz gopher snake        
Pituophis catenifer sayi – Bullsnake
Scientific classification of Pituophis catenifer
Kingdom: Animalia
Phylum: Chordata
Class: Reptilia
Order: Squamata
Suborder: Serpentes
Family: Colubridae
Genus: Pituophis
Species: Pituophis catenifer
Pituophis Catenifer – Pacific Gopher Snake