On this page, you can find an overview of snakes in Montana. The list is separated into non-venomous and venomous snakes in Montana.
Ten snake species can be found in Montana. Of these, only the western (or prairie) rattlesnake is venomous. The other nine species are harmless to humans and larger pets.
If you have encountered a snake in Montana that you cannot identify yourself, we'll be happy to identify it for you. Simply take a picture of it and upload your picture, a quick description and the U.S. state where it was found here on our snake identification page. 
List of venomous snakes in Montana
The western rattlesnake, also called prairie rattlesnake is the only venomous snake species found in Montana. The best way to identify the snake is by their arrow-shaped, triangular head and the rattle on their tail.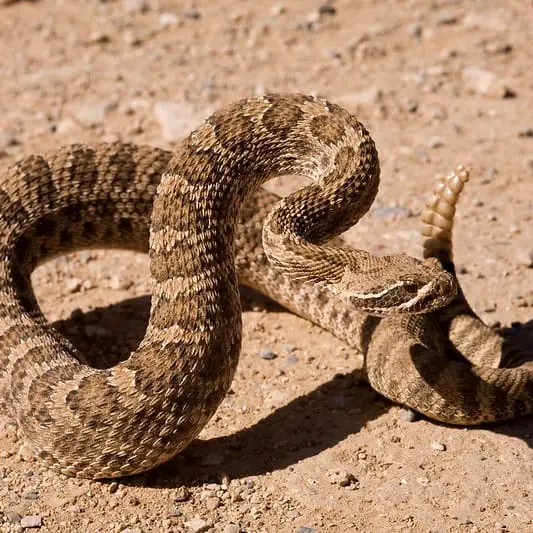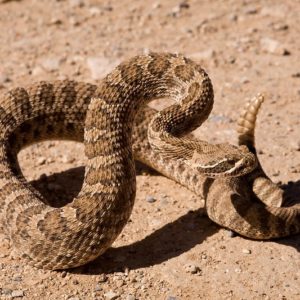 The western rattlesnake or prairie rattlensnake, is a venomous snake species that can be found in the Mid-West of the ...

List of non-venomous snakes in Montana
Of the nine non-venomous snake species in Montana, three species are garter snakes. These species can have a wide range of colors and are usually characterized by a dark body color with a lighter longitudinal stripe along their back and two more on the sides. The garter snakes found in Montana are the western terrestrial garter snake, the common garter snake and the Plains garter snake.
Another common nonvenomous snake is the North American racer, a unicolored small snake that can take on a wide range of colors. In the western parts of Montana, the rubber boa is also commonly seen.
Two of Montanas non-poisonous snake species are mimicking the behavior and appearance of the western rattlesnake to scare off potential predators. These are the gophersnake (including its subspecies, the bullsnake) and the western hog-nosed snake. You can find more information about all snake species by cliking on the images or links below.